Kim Zolciak Biermann's Top Five Lies on Real Housewives of Atlanta
Watching last night's episode of Real Housewives of Atlanta (Season 10 Episode 9) on TV and the concurrent Twitter war on my phone reminded me of the many times that Kim Zolciak Biermann has outright LIED on Real Housewives of Atlanta.
Kim's dinner table confession to Sheree that Kandi wanted to "eat her box" was just another in a long list of lies that Kim has told on the show.  Let's take a walk down memory lane and revisit some of Kim's biggest lies on the show.
We'll start with her accusations against Kandi last night.
5. On last nights episode of Real Housewives of Atlanta (Season 10 Episode 9) Kim Z accused Kandi of wanting to "eat her box".  Now I could tell she was lying from the moment those words escaped her lips, just from the way she formed the sentence. As if she didn't know what she was about to say.  Then laughed at herself after she said it.
Her accusations caused Kandi to go on an expletive filled rant.  She tweeted:
Kim tweeted back:
Based on the fact that Kandi hardly ever gets that mad on social media.  And the fact that Kim's own father has called her a pathological liar, I'm going to conclude that Kim was lying about Kandi wanting anything to do with her "box".  Although she may not have been lying about Kandi and Todd's extramarital activities.
4.  If you've been watching Real Housewives for as long as I have, then you may remember way back in the day (2012) when Kim lied about her and Kroy buying the "dream house" that they were living in.  At the Season 3 reunion Kim announced that they were closing on their "dream home".  But when the deal didn't go through, she lied and said it was because the house was $1 million dollars over-priced according to the assessment.  But the truth was that her and Kroy couldn't get approved for the $2.5 million dollar mortgage on the house! And after the lease ended, they continued to live in the house rent-free as squatters!
3.  At number three is the reason that Kim quit the show in the first place, and why she's only a part-time cast member now.  During Season 5 of The Real Housewives of Atlanta, the ladies, mainly Cynthia, had planned a trip to Anguilla (which actually ended up being Cynthia's wedding re-do).  They planned the trip around Kim's schedule based on the dates Kim told them it was safe for her to fly pregnant.
But when the ladies all sat down at dinner to discuss the trip, Kim told one lie after the other to hide the fact that she just didn't want to take a trip with them.  First she said she had to check with her doctor, even though she had already given them those dates that her doctor specifically approved.  Then she said her and Kroy had already planned a different trip on those dates.  It turned out her ow show, don't Be Tardy had just been picked up and she just didn't want to be bothered with the Atlanta Housewives anymore.
2. Kim Zolciak Biermann continues to deny rumors that she's had a nose job.  And I'm calling her a liar for this one because anybody can clearly see that somebody has taken a knife to that nose of hers.
In December of 2016 Andy Cohen flat out asked Kim about having a nose job when she appeared on his show, Watch What Happens Live.  Andy inquired:
'You don't think that nose is a little different, Kim?' alongside a before and after picture of her face. It doesn't hang down differently?"
Zolciak-Biermann denied seeing a difference. She said.
"If I'm going to have a nose job, it's going to be a hell of a lot shorter. It's not going to go down in my mouth."
Kim has said, 'I've aged, so my face has thinned out a little bit. But I have nothing to hide. And also I have nothing to prove!'
1. And at number ones is that one time, on Real Housewives, when Kim claimed to have cancer.
On the first season of RHOA, Kim claimed that she wore wigs all the time because of cancer, a claim that some of the other housewives doubted. At the reunion show, when Andy asked Kim whether she actually had cancer, Kim tearfully said that she lost 25 pounds, her hair was falling out, and that she was told by doctors that they were 90 percent sure she had cancer.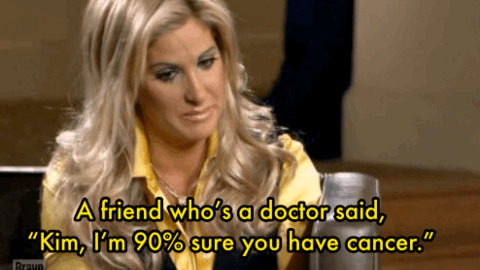 SN: I've never heard a doctor say they were 90% sure of anything! But anyway…
When Andy sympathetically asked Kim if she was now cancer-free, Kim recounted the moment when she was sitting at Chili's waiting to hear the test results, which came back negative for cancer but revealed that she had some other health issues.
"So you didn't have cancer?" asked a confused Andy, to which Kim replied, "No I did not, thank God."
I knew from that moment on that Kim was a pathological liar, just like her Dad later confirmed.  And just like she didn't think twice about lying about having cancer, she didn't think twice about lying on Kandi.